Rev. Isaac Kalonji Mukendi, CPK Kinshasa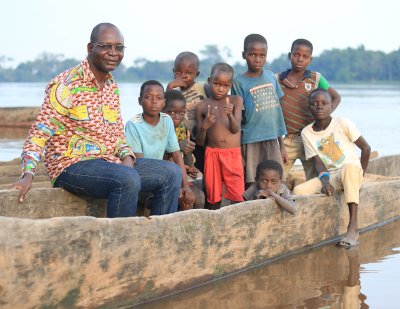 The Rev. Isaac Kalonji Mukendi is General Secretary of the Presbyterian Community of Kinshasa (CPK). He has served in the position since Sept. 2, 2017. Married and the father of seven children, the Rev. Mukendi is also a high school English teacher. He has studied African cultures.
The Rev. Mukendi has taken a transformative role with the Presbyterian Community of Kinshasa. With the support of the General Assembly, he put in place an entirely new seven-member staff to lead the community and create financial accountability, transparency, and responsiveness to the needs of the community. One of those new staff members is Elder Monique Misenga Mukuna, a keynote speaker at the 2019 Congo Mission Network Conference. She leads the CPK Office for Research and Projects.
Actions of the CPK under the new staff have included purchasing medical equipment and drugs for health centers supported by CPK, obtaining tanks to store water, including one for a women's health center, helping to build schools, planting churches, and building structures as places of worship.
All of these things have taken place despite growing unrest in the country.  Conditions include the spread of Ebola, open conflict, loss of jobs, and destabilization of families. Many of the CPK members themselves are suffering due to poverty and fear for their safety.
The Rev. Mukendi will talk about conditions in the Congo and the work of the CPK, particularly related to the empowerment of women and youth.
Elder Monique Misenga Mukuna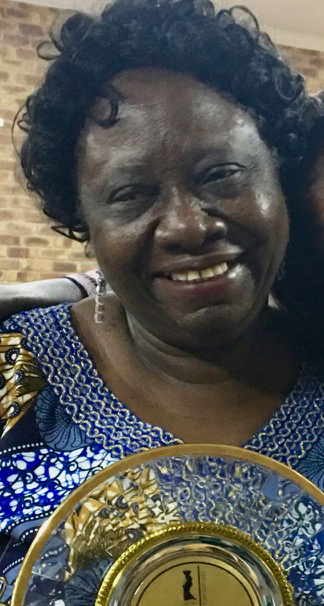 Elder Monique Misenga Mukuna is founder and president of a far-reaching nonprofit called Woman Cradle of Abundance (or Femme Berceau de l'Abondance — FEBA — as it is called in the DCR). Begun in 1999 in Kinshasa, the ecumenical organization has helped countless Congolese women escape poverty and sexual abuse, learn marketable skills and become self-supporting.
"Maman" Monique is also an elder in the Presbyterian Community of Kinshasa, and she leads the CPK Office for Research and Projects.
This is how it all began. The daughter of a Christian father who chose to educate his daughters as well as his sons, Maman Monique earned a degree at the university in Kinshasa. She worked as a teacher and then principal at the secondary level, and then opened a tailoring business. She also took a leadership role in her church and in organizations like the World Council of Churches supporting women and family issues.     She and her husband, now deceased, raised and educated nine children.
In 1999, Maman Monique founded FEBA as the best ecumenical way to help women and children in Kinshasa cope with the terrible problems of poverty, abuse and widespread violence. She established a sewing school and took impoverished women and babies into her home. There were 1000 women who needed help and a volunteer staff of five.
Today FEBA offers a multifaceted approach  to help women achieve the three "stairs to success" — safety, education, and economic empowerment.  FEBA teaches women to read and write and gain marketable skills through the  sewing school. With the help of a North American partner nonprofit by the same name,  FEBA teaches women they have rights and abilities. FEBA leads them to medical care, community support, counseling and help educating their children.    FEBA now has a building to house the school and other FEBA activities.
Maman Monique, who has spoken at Princeton Theological Seminary and on American television, said FEBA teaches the women: "We are able to do all things like a man. We teach them human rights, to have a voice. That they can change their lives."
Dr. Serge Makolo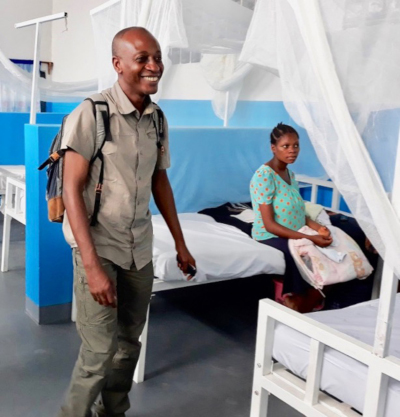 Dr. Serge Makolo is the medical director of Institut Medical Chrétien du Kasai (Christian Medical Institute of the Kasai, or IMCK). Dr. Makolo assumed the position in May of 2017, following the leadership of Alexis Mayambi Nzamba.
Born in Kinshasa, Dr. Makolo graduated from the medical school of the University of Lubumbashi. He also has a degree as a public health specialist. He trained additionally in research at the University Libre of Bruxelles and the Catholic University of Louvain in Belgium. Before coming to IMCK, he worked as a physician in Bilomba and as medical director of the Bilomba General Reference Hospital.
Dr. Makolo works in unimaginable circumstances. IMCK is operating in the midst of a civil war and attends to the wounded on both sides, treating patients who seldom pay.  The hospital's expenses outstrip its income. Staff members have worked on reduced salaries for months and struggle to care for their families.  Hospital equipment needs repairs. Malnutrition, illness and violence are increasing in this country where more than 60 percent of the population is under age 21.
IMCK is a Christian primary health care facility and medical education center. Its services are centered at the Good Shepherd Hospital in Tshikaji, a 120 bed facility, and at PAX Clinic in Kananga, with 20 beds. General medicine, surgery, ophthalmology, pediatrics, gyn/obstetrics, dental services, radiology and lab services are provided.
Dr. Makolo said he strives to help IMCK to be an organization with good structures, management bodies, and healthcare services in line with international standards. He wants IMCK to have a reputation that is a model to follow and a reference across the DRC.
Dr. Makolo is married and has four children.
Drocella Mugorewera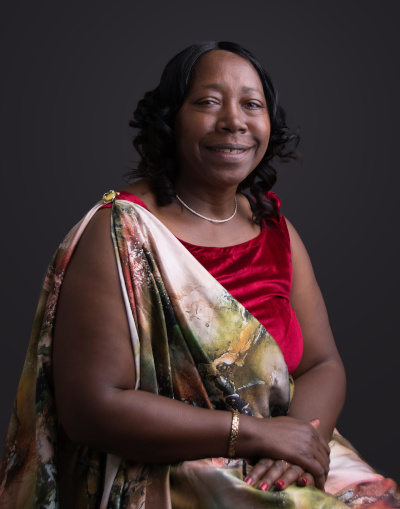 Drocella Mugorewera, 55, executive director of Knoxville's Bridge Refugee Services, Inc., knows life as both a stateswoman and a refugee.
She has used both experiences to strengthen countless refugees in Knoxville, helping them integrate into the community, and to educate the community about the value that refugees bring.
This is how it happened.  Born and raised on a farm in northern Rwanda, Mugorewera earned a bachelor's degree in agronomy and crop science at National University of Life and Environmental Sciences in Kiev, Ukraine. She learned Russian, bringing the number of languages she knows to five.
When Rwanda's 1994 genocide struck, Mugorewera and her husband fled on foot, carrying their baby son, to the Democratic Republic of Congo. But they returned to Rwanda and she worked in a multinational effort to rebuild the country's food supply. She became Rwanda's secretary and minister of livestock and agriculture in 1997.
In 2000, she became a member of the Rwandan Parliament. She headed several government divisions, including Lands, Environment, Forestry, Water and Mines, one of the largest state departments in Rwanda.
In 2008 Mugorewera had to flee Rwanda again for her own life. Her years of of outspoken leadership and support for issues like environmental protection, women's rights, and gender integration had angered too many.
The U.S. Embassy arranged for her to resettle in Knoxville. When she arrived in 2009, she had to start life over. A Bridge Refugee Services case manager met her at the airport. it would be a year until her husband joined her, and another year before she would see her children.
But Mugorewera's determination, skills and positive approach led her to become a leader in Knoxville. She credits Bridge, which helped her find an apartment, a church, a
donated car, and a job.
In 2011, she was hired as multicultural outreach coordinator at the nonprofit Cherokee Health Systems, which provides health care to many of the county's poor.  There she served as an
interpreter for patients and assisted physicians who were not fluent English speakers.
When she served on a panel to interview candidates for the director's job at Bridge in 2015,  and all of the candidates dropped out, she applied and was hired as director herself.  Today, she and Bridge empower refugees from a range of countries. She has attracted more than $100,000 in private donations for Bridge and the enduring respect of the community.
A graduate of the 2017 class at the Consortium for Social Enterprise Effectiveness, Mugorewera was recognized by the Knoxville Mercury as one of Knoxville's Difference Makers. She is a 2019 Peacemaker Award recipient from the Oak Ridge Environmental Peace Alliance. And in November 2018, she received the Champions for Change award in New York from Church World Service.
Debbie Braaksma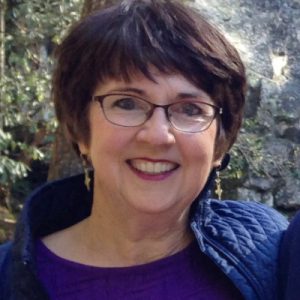 Debbie Braaksma has spent much of her life doing African missions work. Now coordinator of the Presbyterian Church (USA) work in Africa, a position she took on in 2010, she had more than 20 years of experience in African missions before that.
As Africa Area coordinator, she is responsible for facilitating and resourcing PCUSA partnerships in Africa.  She supports regional liaisons in their work with 34 African partners and 38 mission personnel serving in Africa.
An ordained minister of the Reformed Church of America (RCA),  Braaksma has a long history of cross-cultural service.  A child of the First Presbyterian Church in Cambria, WI, she served in high school as a literacy teacher in Mexican migrant worker camps in the congregation's Operation Friendship program. She served as an RCA mission worker in an evangelism and community development ministry with semi-nomadic Muslim pastoralists near the Kenya/Somalia border for 11 years and as the RCA Africa supervisor for 7 years.
Braaksma served as a PCUSA/RCA mission worker engaged in peace building and trauma healing in Sudan from 2005 until 2010. And she served as the principal of the RECONCILE Peace Institute and also led community-based trainings in areas of South Sudan experiencing high levels of inter-ethnic conflict.
Braaksma co-authored "Bringing Healing to Traumatized Children" and has been involved in the Sudanese peace building, outreach and children's ministries of Beechmont Presbyterian Church in Louisville, KY, where she serves as a parish associate.
Braaksma received a Master of Theology degree from the University of Edinburgh and a bachelor's degree in social work from the University of Minnesota. She is married to Del Braaksma and is the mother of four children and has nine grandchildren.
Jeff and Christi Boyd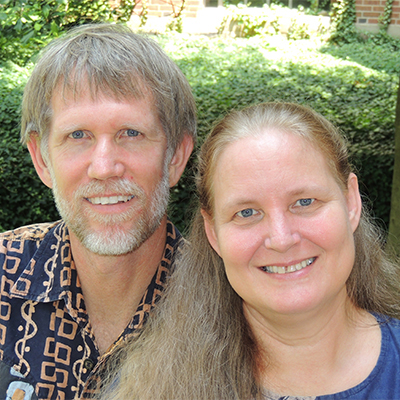 Mission co-workers Jeff and Christi Boyd have served in Tanzania, Democratic Republic of Congo, and Cameroon since appointed by PC (USA) in 1990. As Presbyterian regional liaison for Central Africa, Jeff facilitates support for relationships, programs and activities between churches in the USA and in the DRC, Cameroon and  Equatorial Guinea.
Christi is fluent in various languages and works in several African countries in programs supporting women and children. They are Congo, Madagascar, Niger,  Rwanda, and South Sudan. She has taken a leading role in training facilitators in trauma healing for the victims of violence, both children and adults. Recent violence in the Kasai has left brutal physical and emotional wounds in the communities.
A former math teacher, Jeff brings to his duties as regional liaison more than two decades of experience as an educator in the United States, Pakistan and Africa. Education is a priority for the partner churches with whom he works.  He holds a bachelor's degree from Whitworth College in Spokane, WA, and a master's degree from California State University.
Trained as a physical therapist, Christi also has longstanding experience bringing people together to address root causes of hunger and poverty. Among other experience, she completed 13 years as facilitator for the Joining Hands Initiative in Cameroon. Christi earned her physical therapy degree from Academie voor Fysiotherapie in The Netherlands, the country of her birth.
Jeff and Christi are members of Crescent Hill Presbyterian Church in Louisville, KY, and are the parents of three grown children, Matthias, Salome and Naomi.
Larry and Inge Sthreshley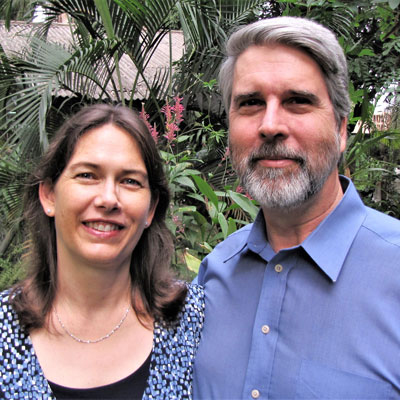 Mission co-workers Larry and Inge Sthreshley live in Kinshasa, serving both Presbyterian Community of Congo (CPC) and the Presbyterian Community of Kinshasa (CPK).
Larry is Presbyterian health liaison, and works with churches and organizations to build health ministry in Congo (DCR). He is also country director for Interchurch Medical Assistance (IMA) World Health in Congo and is instrumental in helping partners run health programs. Larry has been on the front lines in battling the Ebola epidemic. Additionally, he serves as  chief of party of the ASSP (a French acronym that means Access to Primary Health Care) project and on the board of Good Shepherd Hospital (IMCK).
Inge oversees the Methodist Presbyterian Hostel (MPH), which is a mission guest house and small conference center. She also works on the nutrition, home garden, and clean cook stove components of the ASSP project, helping to address the problem of malnutrition through nutrition education and home gardens and through efficient and low-emission cook stoves.
Both Larry and Inge grew up as children of missionaries in Congo. Larry's parents were Presbyterian missionaries who served in the two Kasai provinces in the south-central region and Inge's parents were Methodist missionaries who served in Katanga province in the far southeastern section of the country.
Larry holds a doctorate in international health systems management from Tulane University, a master's degree in public health from UCLA, and an undergraduate degree in public health from the University of North Carolina.
Inge studied tropical agriculture at the University of Hawaii, where she received a bachelor's degree.
The Sthreshleys are the parents of two grown children, Lisa and Michael. Lisa was born at the Presbyterian-supported Good Shepherd Hospital in Congo.
Beth Ann Casperson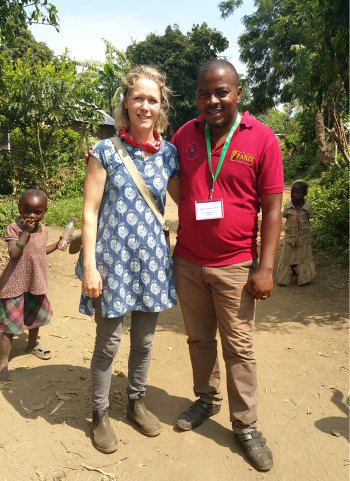 When Beth Ann Caspersen, a new Wheaton College graduate, began working for Equal Exchange in 1996, she probably had no idea that her work would one day be helping to save women's lives.
Today, as coffee quality manager for Equal Exchange, Caspersen works with farm cooperatives around the world to import organic, fairly traded coffee and sell it on the world market for a fair price. Her work helps small coffee farmers to market their goods abroad and eliminate a middleman.
And the Congo Coffee Project, which she organized in about 2012, is helping to both revive the East African coffee-growing business and raise desperately needed funds for women's medical care.  Both initiatives are life-giving in a country traumatized by ongoing brutality against villagers by soldiers, thieves and renegades, including the rape and savage treatment of thousands of women.
In 2011 the Panzi Hospital, which Dr. Denis Mukwege founded in the war zone to treat women's injuries and provide gynecological and obstetric care, asked Equal Exchange to help raise funds through the sale of coffee. Caspersen led the creation of the Congo Coffee Project, buying from a local coffee co-op, SOPACDI, and marketing the choice Congolese coffee in the U.S. The Congo Coffee Project has donated more than $80,000 for survivors of sexual violence in East Africa through the sale of coffee and handmade bags.   In 1918, Dr. Mukwege won the Nobel Peace Prize for his work with Congolese women.
Ayman Nagy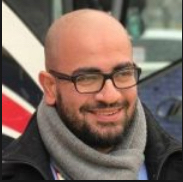 Ayman Nagy is the advocacy manager for the Enough Project, a Washington, D.C. based nonprofit whose stated mission is to end genocide and crimes against humanity in Africa's deadliest conflict zones. Founded by John Prendergast and Gayle Smith in 2007, Enough Project uses research and public awareness campaigns to expose and stem violence, corruption and the trafficking of Africa's natural resources.
Nagy leads Enough's Student Upstander Program and the integration of student organizing initiatives with wider organizational policy. He works with the advocacy team to develop and implement innovative campus and general advocacy and campaign strategies.
Nagy is a longtime human rights activist. He was founding director in 2012 of the Anti-Harassment Movement in Egypt, which works to combat gender-based violence and promote gender equality. He was online media manager for HarassMap, an Egyptian nonprofit that works to stem sexual harassment. In Washington, he has worked with Women Thrive Alliance and the Close Up Foundation, a civic education nonprofit.
He holds a BA in Commerce from Alexandria University.
Nathaniel Houghton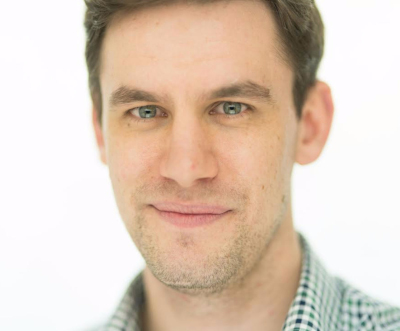 Venture capitalist Nathaniel Houghton of Buffalo, NY, began training Congolese youth to be entrepreneurs and leaders almost as soon as he reached adulthood himself.
In 2010, with the blessing of his church, Orchard Park Presbyterian Church near Buffalo, Houghton founded Congo Leadership Initiative, (CLI) a nonprofit organization that provides leadership and entrepreneurship training to young people living in the Congo.
Houghton, a Cornell University graduate who also attended Harvard Business School, set up a training system in Congo that was cited as a model program by the International Youth Foundation. It has led to the successful creation of more than 400 organizations and businesses by Congolese youth.
Houghton points to the potential in Congo's large and youthful population. "Nearly 70% of the Congo's 70 million people are under the age of 25 and the population will more than double before 2050. The Congo's potential for progress is enormous," says the CLI website.
Since its founding, CLI has trained more than 2,000 young leaders, about half of whom are women. Many alumni have gone on to attend respected colleges and universities and have become community and business leaders.
Three members of the Congolese leadership team traveled to the U.S. in May. They met with the CLI board, visited Orchard Park Presbyterian Church, and spent time at Howard University and the Johns Hopkins School of Advanced International Studies. 
      "We learned from these presentations that people really want to know what is happening because Congo is like another planet and they want to know how to get involved," they wrote.