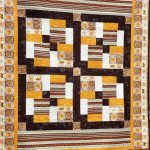 The MPH guesthouse in Kinshasa has hosted many travelers going into and out of Congo.   Clay and Cindy Dunn have been doing a wonderful job of operating and improving the guesthouse for several years.   The Dunns raise their own support but regularly need more support.
Roxann Stixrud Rule has made a Congo-themed quilt and will raffle it at the Congo Reunion Luncheon in Montreat on August 24th.
Here is what she says about the raffle:
This quilt, made with Congo fabric, is going to be raffled at our CS Congo Reunion next month.  $$ raised will go to Appointment Congo for Cindy & Clay Dunn support.
$5 per raffle ticket, so you can buy more than 1 to increase your chances of taking home the quilt.  Cash or check accepted at the reunion.  Drawing will happen at the lunch on Saturday!
If you can't be there & would like to participate, send me a check made payable to Appointment Congo & I will reserve your tickets.
Roxann Rule  <rrule49@gmail.com>
PO Box 416
You can contact the Dunns at: