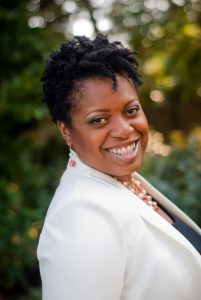 The Rev. Denise Anderson, Coordinator for Racial and Intercultural Justice of Presbyterian Church (U.S.A.) and Co-Moderator of the 222nd General Assembly (2016), will deliver the keynote address for the opening session of the Congo Mission Network Virtual Conference on Sept. 16.
The live-stream session, to be a Worship and Introduction event, will be posted at https://congopartners.org on Sept. 16. It will launch the 2020 annual conference with sessions to take place through the fall and winter. Under the theme, "Unity, Justice and Reconciliation in the U.S. and Congo: Christian Faith in the Time of COVID-19," the conference will probe issues of concern to both the U.S. and the Democratic Republic of Congo.
Rev. Anderson will deliver a sermon focusing on the Confession of Belhar, the COVID-19 pandemic, and systemic racism.
The Rev. Anderson has been hailed as a leader in keeping the issues of structural racism and white supremacy in front of the church. She is a longtime activist for racial and social justice through her sermons, her PC(USA) roles, and her writing for such publications  as Christian Century, Presbyterian Outlook, Huffington Post, and Presbyterian News Service, and her blog.
The Sept. 16 the Congo Mission Network (CMN) event will feature speakers and music from the U.S. and Congo. It will serve as both an introduction and tone-setter for this year's conference. As the world wrestles with the terrible COVID-19 pandemic and grieves worldwide inequalities resulting from racism and colonialism, participants will begin to examine their own pasts.
Anne Crane of Boston, Mass., and Bill Reinhold of Bridgewater, Va.,  are co-conveners of this year's CMN conference. After the sermon, Crane will explain the theme of the conference, including the use of Confession of Belhar, and will describe the sessions to follow in the fall and winter.
More details about registering for the opening session on Sept. 16 will be available soon on the Congo Mission Network website https://congopartners.org.